My wife, Debra, and I have a blog site called With the Barretts where we post adventures in home renovation and travel. This post is one that I wrote at the beginning of February. I thought you might enjoy it.
Springtime in Seville
You want to go to Spain, perhaps visit several cities, and you're wondering which cities and what time of year. Make Seville – the heart of Andalusia in southern Spain – one of the cities. And go in late March or early April. Springtime in Seville is a delight.
Southern Spain can get quite hot in the summer, with many days topping 100 degrees. In March, though, it is as pleasant as you could wish for – warm enough to be comfortable in short sleeves during the day and sometimes cool enough for a light jacket at night. But the real reason to choose that time of year for your visit is the smell.
Orange Blossoms
While you're strolling the cobblestone streets during springtime in Seville, the scent of orange blossoms is everywhere, sometimes so strong that it's almost intoxicating.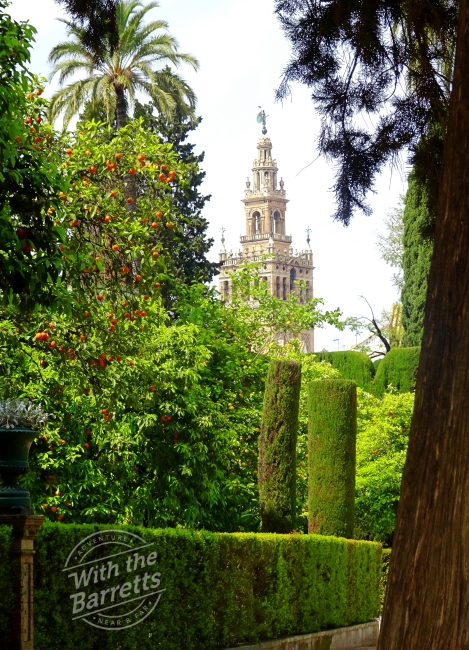 Thousands of orange trees line the streets of Seville and in the early spring, they're all in bloom. The oranges, themselves, are not edible.  The Moors brought Seville Oranges to Spain  a thousand years ago and, unlike more modern varieties, the fruit is bitter. It makes wonderful marmalade, though, and most of it is harvested and shipped to Britain for that purpose.
Springtime in Seville – Festivals
If you have an aversion to crowds, there is one significant caveat about visiting in March or April: Semana Santa (Easter Week) in Seville means one of the largest festivals in Spain, followed two weeks later by Feria de Abril – perhaps the largest and longest festival in Andalusia. It is at least a week – and more likely two – of merry-making, food, drink, and dancing.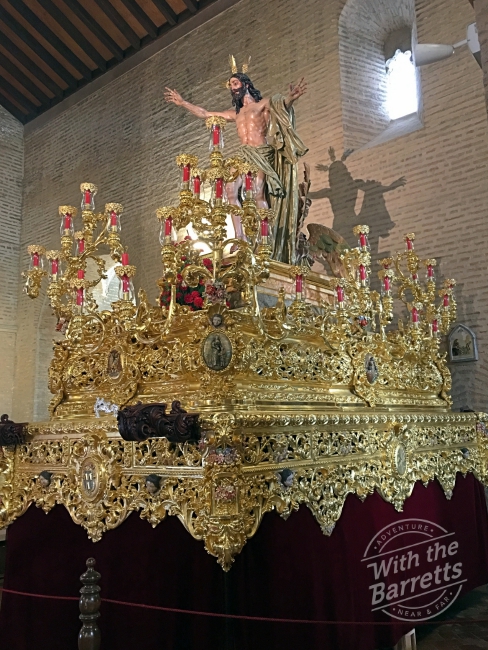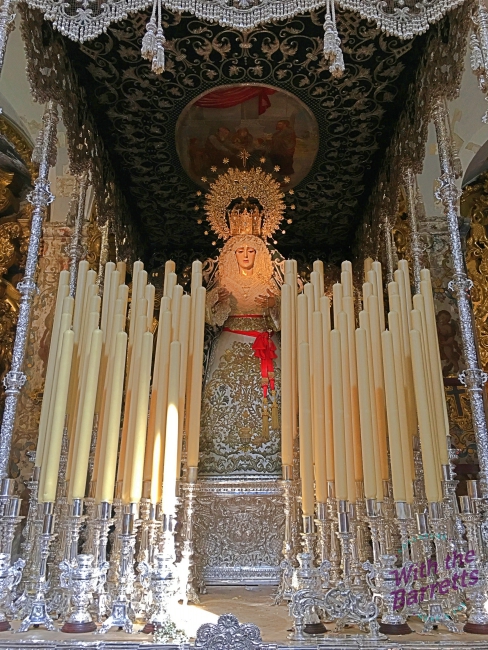 Wandering through the city, you notice that there seems to be a church every couple of blocks. Every one of them puts at least one and sometimes two or three elaborately decorated floats into processionals all over town. People prepare literally all year for these parades.
Timing your visit within a week or two before Semana Santa lets you witness some of that preparation – rehearsals during which the people chosen to carry the floats (that's right – they're not motorized) practice maneuvering enormous boxes through narrow, winding streets. Many of the churches also open to display the decorating process. It's fascinating to see plain, wooden bases bloom with gold and silver and religious figures.
Exploring the City
As you continue exploring, you can't help but notice the shops filled with spectacular dresses in flamenco style, all aimed at making this year's Feria the most fashionable.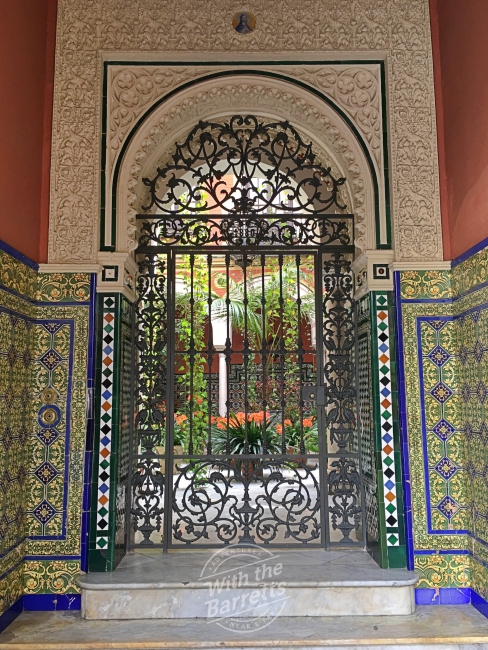 You might stay in one of the boutique hotels in Santa Cruz, a stone's throw from the Cathedral and the Alcázar. Or you might rent an apartment in the Feria neighborhood, between the Alameda de Hercules and La Macarena. Wherever you sleep, when you're walking, you will often find yourself on streets so narrow that you can almost stretch out your arms and brush the buildings on either side with your fingertips.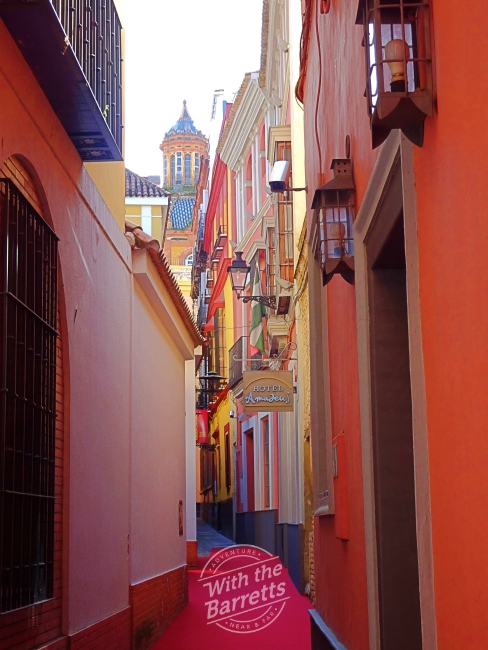 And around every corner, there is something new to take your breath away – beautiful buildings, gardens, small neighborhood squares – with the delicate scent of orange blossoms wafting over everything. The streets are so narrow that, often, what appears to be a dead end from even a short distance away reveals itself as a T-intersection with more opportunities for loveliness in both directions.
Architecture

Andalusia, which occupies the southern quarter or so of Spain, is famous for its Moorish-influenced architecture. Seville, the capital city of Andalusia, is no exception.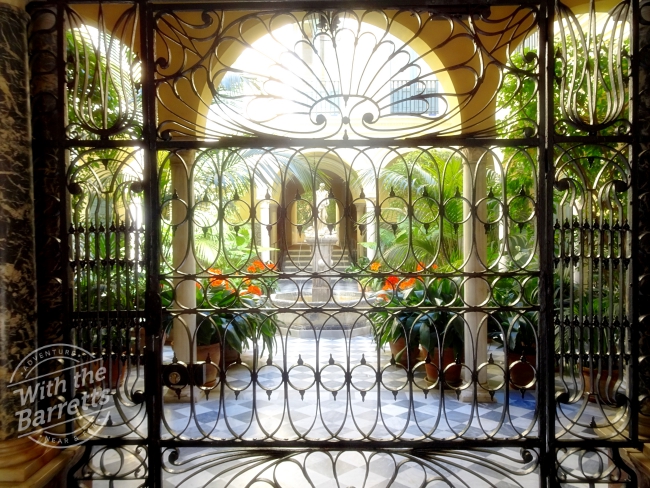 Real Alcázar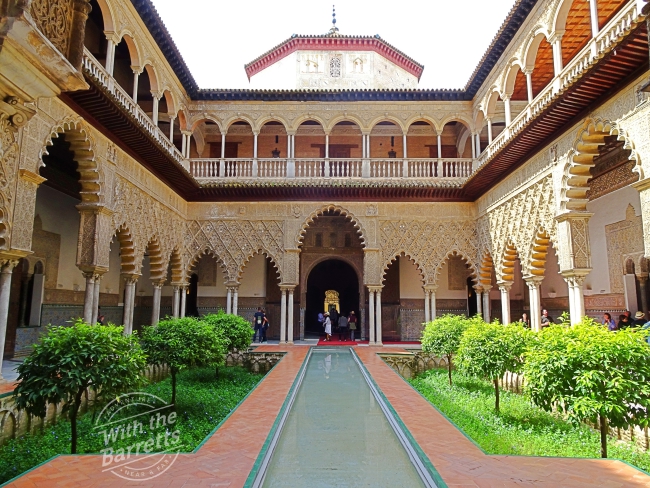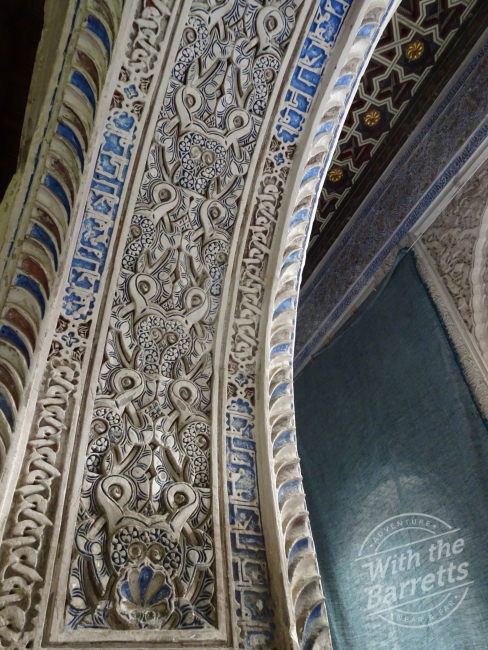 The Real Alcázar (the Royal Palace) is simply stunning. So much so, in fact, that fimmakers often choose it when scripts call for exotic loveliness. Visitors may recognize parts of the Alcázar from such movies as Lawrence of Arabia and Kingdom of Heaven. And the Alcázar's gardens will be familiar to Game of Thrones devotees as Dorne – the southernmost region of the fictional Westeros.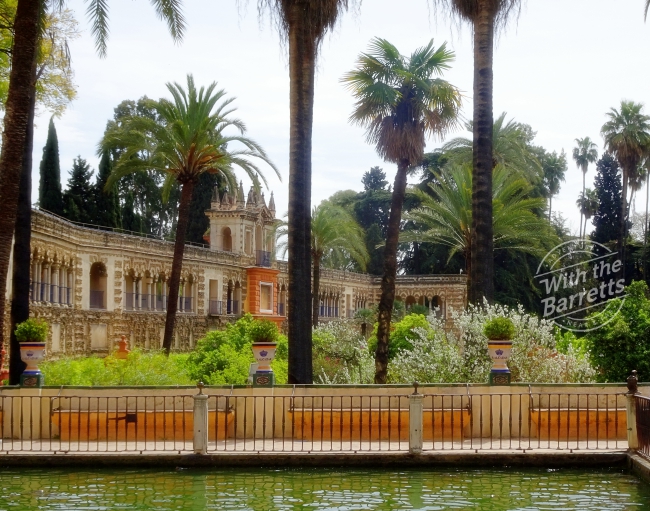 Plaza de España
Another architectural marvel not to be missed in your springtime visit to Seville is Plaza de España. Although constructed considerably more recently than the Alcázar – it was built for the Ibero-American Exposition of 1929 –  Renaissance Revival and Moorish Revival architecture mix to spectacular effect at Plaza de España.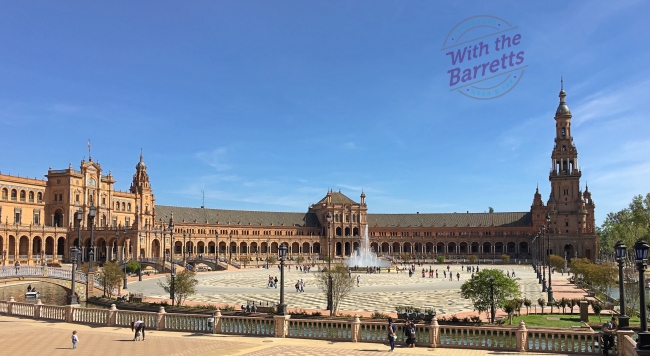 As you enter Plaza de España, the immense scale of the place stops you in your tracks. A semi-circular, multi-storied building spanning nearly half a kilometer from one tip of its arc to the other, the Plaza boasts almost surrealistically ornate matching towers at each end . The center structure echoes the towers, but with a more authoritarian feel. Elaborately decorated tiles and textured surfaces adorn everything.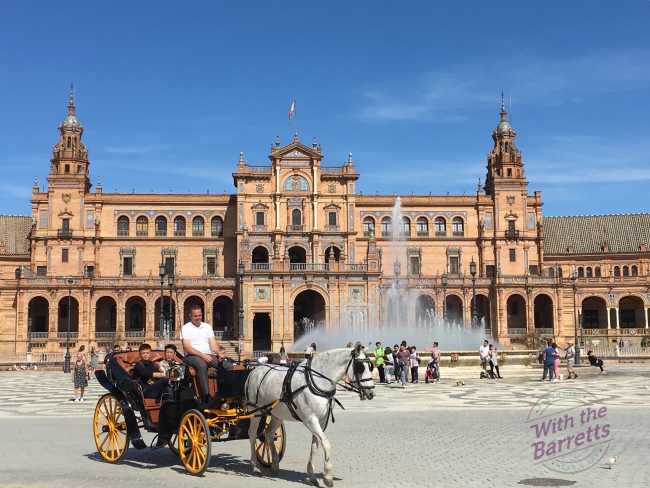 A moat encircles the central courtyard – if such a large space can fairly be called that. Five arched and tiled bridges span the moat and lead to the central building at the apex of the arc.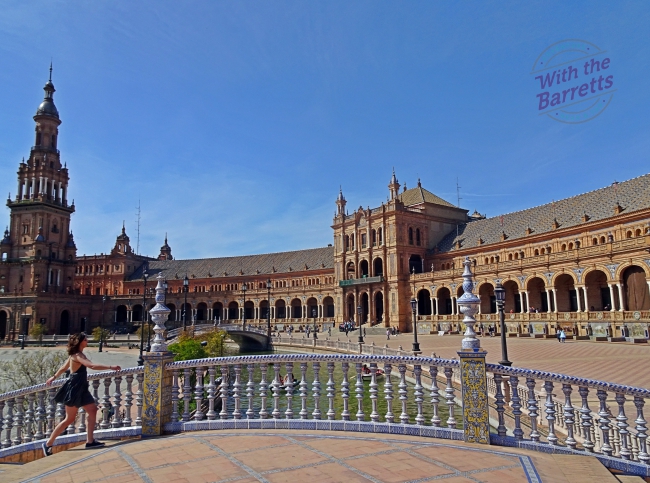 Plaza España's impact is sufficiently out-of-this-world that it served as the backdrop for the Galactic Republic's governmental buildings in Star Wars II-Attack of the Clones – no CGI necessary.
Metropol Parasol – Las Setas (the Mushrooms)
And, speaking of other-worldly buildings, Seville boasts one that stakes a serious claim to being the world's largest wooden structure. The Metropol Parasol, aka Las Setas de Sevilla (the Mushrooms of Seville) is like nothing you've ever seen.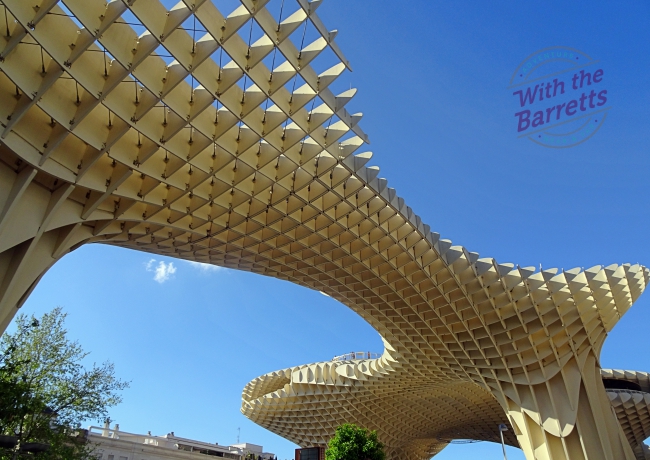 You'll have to pay about six euros each to ride the elevator to the top of the Setas. The experience is well worth the investment. You will feel as if you're in the landscape from a science fiction novel. The "bones" of the Setas (enormous wooden beams, painted soft white) form undulating pathways and reflect the crisp Andalusian sunshine. And the views of springtime in Seville – amazing.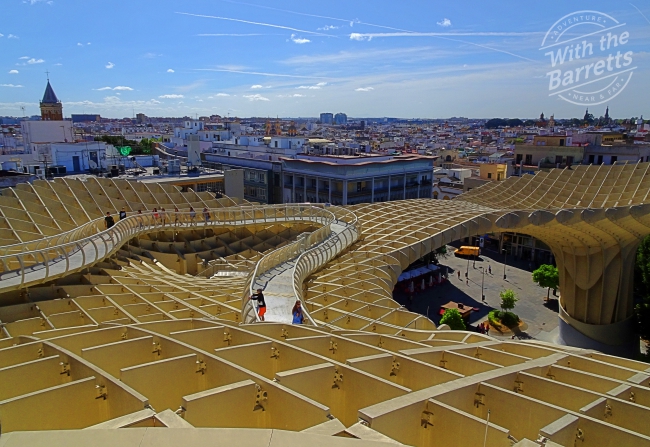 Take some time and soak it all in – you won't find anything like it anywhere else.
As you leave the Setas, go down below street level and explore the Museo Antiquarium – the preserved archeological ruins discovered when construction of the Setas began. The site served as a Roman fish hatchery from the 1st through the 6th centuries. You can explore several levels of structures and examine mosaic floors in this fascinating museum.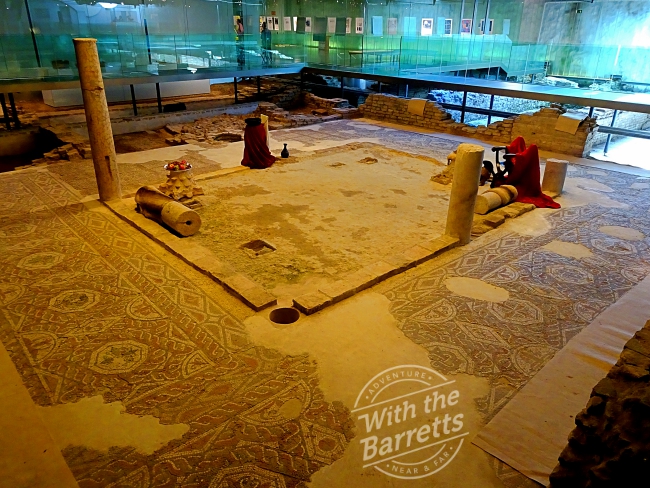 Springtime in Seville is a Delight
Next? You have so many choices. You can – and should – take in a Flamenco show. Rub elbows with medical students while nibbling on churros dipped in steaming hot chocolate at the kiosk across from the Macarena Arch (Arco de Macarena). Stroll through the central historic district. Visit the Cathedral and see the tomb of Christopher Columbus. Be amazed by the flowers that run riot in the southern Spanish climate.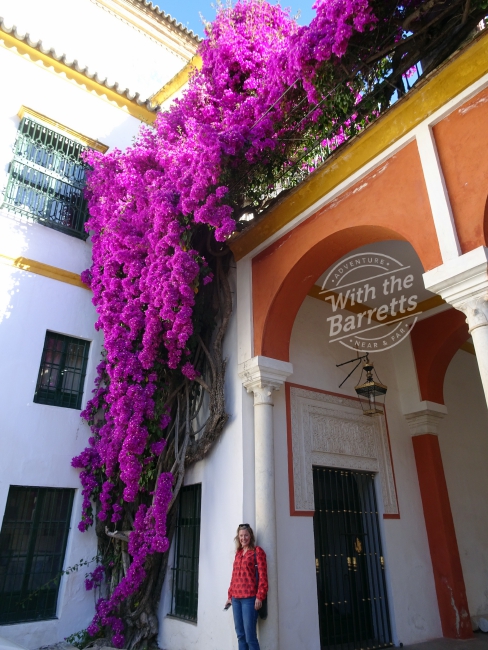 You're in no hurry; there's no need to rush. Take the time to appreciate springtime in Seville. We'e only scratched the surface in this visit. There's more – much more – to experience.
Whether you're marveling at the architecture or enjoying sumptuous Andalusian cuisine or being dazzled by the colors and styles of dresses for the Feria, linger a bit. Absorb it before you move on. Then turn the corner – there's something else wonderful to see.
Thanks for coming along With the Barretts on this adventure. We couldn't ask for better company.
Until next time – every once in awhile, pause. Think about Springtime in Seville.
Breathe deep. And remember the scent of the orange blossoms.
Dan